Eurotranstelecom LLC provides connection of Internet for builders of Beskid rail tunnel. For this was laid fiber-optic cable in heavy conditions. Works have passed at the Company's expense involving to perform the work of builders "Ukrzaliznytsia".
In the process of building a new tunnel Eurotranstelecom LLC plans to lay fiber-optic cable and, thus, to provide a reliable Internet connection settlements along the line Volovets-Stry.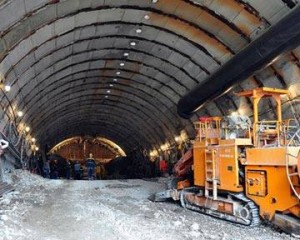 Photo: Andriy Polіkovsky, profidom.com.ua
Beskid tunnel is the second longest railway tunnel in Ukraine. It is located in the Ukrainian Carpathians. Currently Ukrzaliznytsia under the auspices of the EBRD is reconstructing the tunnel, namely the construction of a new double-track tunnel adjacent to the existing built in 1886.
Thanks to the new tunnel bandwidth section of the railway will increase to 100 pairs of trains per day, and the speed will increase from 40 to 60 km/h.